Hand Massage, Acupressure, and Reflexology
A Presentation by
Anita DeVito, MS LMT MSC
Hands! For thousands of years, palm readers and psychics have used hands as mirrors into our souls. They read our lives and tell us the future. We use them all day long. They feed us, cloth us, wash us, allow us to work, drive, and to be creative, they can replace speech when verbal communication is impaired. They wipe away our tears and hold the ones we love. Now let's be kind and gentle with them. Let us find ways to be grateful for their service to us over the years and keep them healthy for our continued use.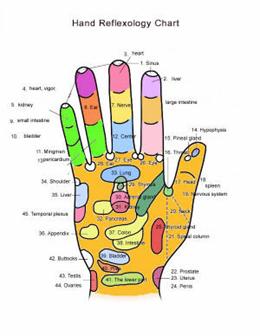 For 3 thousand years oriental medical practitioners have used the 100 acupuncture points in the hand to alleviate pain, eliminate allergies, and improve digestion, breathing, and heart problems. And that is just a few of the effects that massaging the acupressure points of the hands can have.
In reflexology the hand is a map of the entire body and by massaging our hands we can affect both physical and emotional health and well being.
More traditional massage techniques – Swedish massage – bring fresh blood and oxygen to the bones and soft tissue of the hands, relax and lengthen the muscles, and ease constriction of the joints.
During this presentation we will learn about specific points that help arthritis, heart disease, and digestion.
We will do stretching and loosening exercises for hands and shoulders and a shamanic exercise to awaken the energy within. We will gently and lovingly massage our hands.
Adeva ....207-233-2805
E-mail: adevito474@gmail.com
return to Home page, Bach Flower Remedies - Flower Essences, Qi Gong, Hand Massage Class, Hands in Motion Class,

Natural, Safe, & Gentle Therapies - Reiki, CranioSacral Therapy, Metamorphic Technique, Somato-Emotional Release,

Body Oriented Healing - Massage Therapy, NLP- NeuroLinguistic Programing , Healing through the Chakras,

Infant Massage, Facial Rejuvenation, Moving into Wellness, Prosperity through the Chakras Yoga Class